The Mountains About three miles to the West of the Cube a range of mountains arises from the desert floor. These are the foothills of the Sierra de San Pedro Mátir (Saint Peter the Martyr) range which forms the backbone of the Baja California peninsula. The highest peak of this mountain range, Piacho del Diablo (Devil's Peak) is clearly visible form the Cube to the Northwest, especially at sunset. Rising to 10,147 feet, Diablo is actually the highest point in Baja California.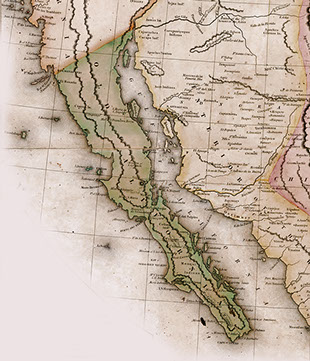 The mountains were formed by ancient volcanic activity far below the surface. As the rocks cooled they were slowly uplifted by tectonic forces to their current elevation. They consist primarily of igneous rock, including various types of granite. Several lateral spurs of these mountains run West to East between San Felipe and Puertecitos and are the reason for some dramatic zig-zags in highway 5 South of San Felipe. Dark greyish brown in color, they are mostly devoid of vegetation in the lower elevations. Their salience varies by time of day. At dawn the shapes of the hills are seen in stark contrast defined by the shadows cast by the low angle of the sun, and bathed in a golden light. At noon they seem to disappear into the sky in a matching tone of blue, and at sunset they appear in dark echelons embedded in layers of yellow mist.
The Sea The Sea of Cortez, also known as the Gulf of California has an interesting origin. A glance at the map will show that its length and width are almost a mirror image of the peninsula itself. The sea is essentially a flooded valley whose axis aligns with the San Andreas Fault, and is, in fact, an continuation of the same fault system. About 20 million years ago this crack began to widen and a peninsula was formed. Geologists tell us that Baja California and the entire West coast of California are slowly moving Northwest and will eventually disappear under the Aleutian Islands in Alaska!
The delta of the Colorado River forms the North end of the sea. Not much water enters from this source since almost all of it will have been siphoned off by San Diego before it can reach the sea. But silt from the delta affects the clarity of the water which is relatively cloudy at the Cube compared to the waters near Cabo San Lucas.